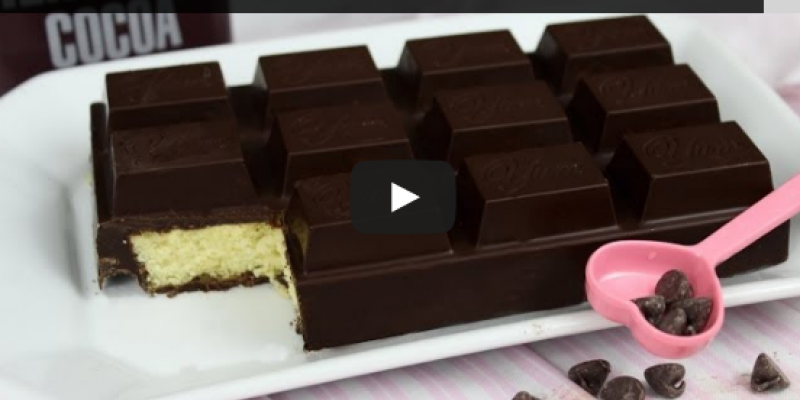 How to Make a Chocolate Bar Cake!
Hello everyone! This chocolate bar cake is the dream of any chocoholic, and would be a great gift for any dessert-loving friend! I originally saw a version of this cake on Pinterest, and knew I had to get the cake pan -- I was so excited to see it at an It's Sugar store! Let me know in the comments below what else you would like to see me make in this pan, and hope you enjoy the video!

Watch all my baking videos here: http://bit.ly/1hFs5Hj

Buy the pan here: http://amzn.to/18fXi0t

Recipe and idea courtesy of "Las Recetas de la Felicidad" (http://bit.ly/18fWTep)

Ingredients:
3 eggs, room temperature
1/3 cup white sugar
2 T. canola oil
2/3 cup flour
1 tsp baking powder
12 oz. bag of chocolate chips

Directions:
1. Beat together eggs and sugar until pale yellow and thick, about 5-7 minutes. The batter should leave ribbons in it when the beaters are removed.
2. Mix in oil.
3. Sift together flour and baking powder into egg mixture, and gently fold the mixture together.
4. Pour into greased baking pan, bake at 350 F for 20-25 minutes
(Optional: If you have leftover batter, make little sponge cake cupcakes! Bake in a muffin tin fitted with cupcake liners for 9-12 minutes at 350 F)
5. Let cake cool completely, and very gently remove from pan and place onto cooling rack
6. Trim edges and in-between "squares" of chocolate on top to accommodate space for the chocolate
7. Melt chocolate chips over a double boiler. Brush a generous layer of chocolate into cleaned pan, and gently lay in cake.
8. Pour remaining chocolate over top of cake. This layer does not need to be flush with the top of the pan, it only needs to completely cover the cake
9. Place in fridge to set for 20 minutes, and gently remove from pan. Enjoy!

Find me on Facebook and send me pictures of your kawaii treats and crafts: http://on.fb.me/14LNQ1d

Check out my channel: http://bit.ly/18keK04

Music courtesy of Audio Network "Clap Happy" and "Better Days"