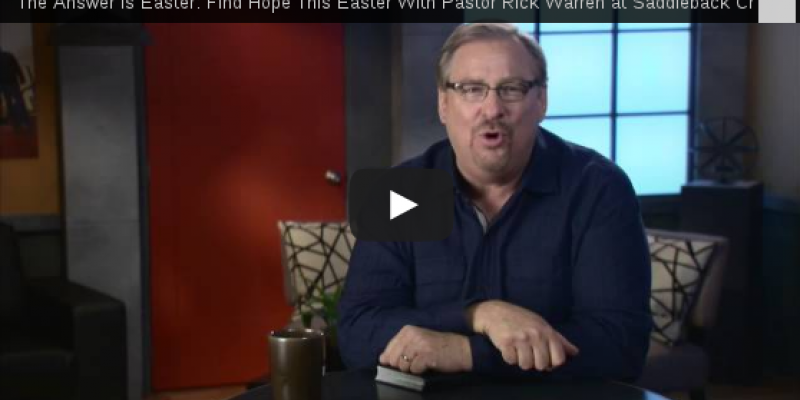 The Answer is Easter: Find Hope This Easter With Pastor Rick Warren at Saddleback Church
Do you ever find yourself discouraged, depressed, defeated, or even devastated by the circumstances in your life? If so, let me take 90 seconds to encourage you about the pathway to hope, change, and transformation that I found in the Easter story of the resurrection of Jesus.

5 days after Easter last year, my 27 year old son ended his own life. He had battled mental illness since a child, and despite the best doctors, meds, therapy, prayers, and love, he lost his battle for hope. Our family was devastated. The day Matthew gave in to despair was the worst day of my life During the past year, I've been often asked, 'How have you made it? How have you kept going in your pain?" I've often replied, "The Answer is Easter."

The death, burial, and resurrection of Jesus happened over 3 days:
Friday was a day of suffering, and pain, and agony
Saturday was a day of doubt, and confusion, and misery
But Easter Sunday was a day of hope, and joy, and victory!

Now here's the fact of life: You will face these 3 days over and over in your lifetime.
And when you do, you'll find yourself asking, as I did, 3 fundamental questions:
1. What do I DO in my days of pain?
2. HOW do I GET THROUGH my days of doubt and confusion?
3. HOW do I GET TO the days of joy and victory? The Answer is Easter!
This is why I'm personally inviting you to attend one of Saddleback church's 50 Easter services offered at our 12 campuses beginning this Thursday evening through Sunday evening.

I'm going to answer these 3 great questions , based on what I learned in the worst year of my life. This will be the most personal, the most powerful, and most encouraging message I've ever shared. The message is simply called "The Answer Is Easter!" The truth is, we cant find the answers anywhere else.

If you can't attend one of Southern California services, I urge you to watch my message ONLINE at saddleback.com. And if you know anyone going through a tough time, bring them with you to Easter. You won't regret it, and it may just change your life and their life.
In closing, I urge you to share this video invitation with all your friends through email and social media.
You can find more information at saddleback.com. Thank you. See you at Easter at Saddleback Church.