INCREDCON: Its All About Dressing The Part!
INCREDCON
Science Fiction Convention Orange County
Its All About Dressing The Part - "Cosplay" Event Of Orange County



WHY? BECAUSE YOU ARE INCREDIBLE
AND INCREDCON NEEDS YOU!

INCREDIBLE PEOPLE GETTING STARS ON SAN CLEMENTE STARWALK


Incredible Actress, Speaker and Business Woman


STEPHANIE PAUL


Best Female President in SCIFI Comedy


Madam President Iron Sky, TED Talks, Hilarious Healing Project



SUPPORT YOUR LOCAL SCIENCE FICTION CONVENTION
BY COMING AND HAVING A BLAST WHILE HELPING OTHERS!
*** NEW PREVIEW ONLINE TO THE NEW IRON SKY MOVIE BELOW! ***

INCREDCON THE INCREDIBLE
SCIENCE & FICTION CONVENTION OF ORANGE COUNTY!
COSPLAY ADVENTURE MASQUERADE CONTEST


AMAZING SCIENCE FICTION FOOD - FOOD OF THE FUTURE

ITS ABOUT THE FOOD!
THE SCI-FI FOOD!
YES, THE FOOD!

B-MOVIE BBQ
WALKING DEAD CAFE
CINDERELLA'S PANCAKES


FISH STICKS & CUSTARD


MONSTER ALIEN BOWLS
ZOMBIE CINNAMON ROLLS
STARSHIP COOKIE BAKER
HEART VANILLA ICE CREAM AND ROYAL CHOCOLATE CAKE
FLAMING HOT MARSIANS

More To Come! DREAM FULL!

HOW FUN IS SCIENCE, TECHNOLOGY AND INNOVATION

WHAT HAPPENS WHEN SCIENCE FICTION BECOMES REALITY?

RUDY'S RADICAL SCIENCE will be hosting this event and perfoming a science show that will simply amaze kids and grown ups about how Incredible Science Can BE!
THE MAGIC OF SCIENCE

COMICS, AUTHORS, WRITERS, ARTISTS

Thomas Rucktenwald



He is the top selling artist at Comic-Con San Diego and many other science fiction events, conventions and expos. Specializes in Doctor Who and specialized autograph collections. Did work for for Sony Pictures and other Hollywood Movie companies.

SCIFI MUSIC and MORE TO COME!


FIND INCREDIBLE PEOPLE RIGHT NEXT TO YOU AT INCREDCON - BLIZZARD ARTISTS, MOVIE ACTORS, VIDEO GAME DESIGNERS, COMPOSERS AND MORE...
MORE ARTISTS, ACTORS, EXHIBITS, PERFORMERS
& FUN FUN FUN TO BE ADDED!

THIS IS YOUR OWN ACCESSIBLE ARTISTIC SCIENCE FICTION TECHNOLOGY FOOD OF THE FUTURE CONVENTION RIGHT HERE IN LOCAL ORANGE COUNTY!

MADAM PRESIDENT OF THE FUTURE FROM IRON SKY


WILL BE INTERVIEWING INCREDIBLE MOVIE ACTORS, PRODUCERS, COMPOSERS, ARTISTS AND MORE...

GET INSPIRED BY THEIR STORY!

THREE INCREDIBLE PEOPLE WILL BE HONORED WITH
STARS IN WALK OF FAME IN OLD TOWN SAN CLEMENTE!


- Comic Book artists & vendors!
- Meet b-movie Actors, Directors, Composers!
- Artist Alley with Autographs!
- Science Fiction Writers & Charity Book Auction
- Video Games and Exclusives!
- Cosplay Costume Contest!
- Explore NEW Science Fiction Technology!
- Robots & Robotics exhibits!
- Monsters & Aliens!
- Toys and Games!
- Sci-Fi Music & Performers!
- Art Exhibits & Auctions!
- SCIFI Incredcon X1 Games
- FOOD of the Future!!!

Out Of This World Food of the Future:

Deliciously weird Science Fiction Food has landed! Experience The Walking Dead Cafe, taste Alien Bowls, B-Movie BBQ and MORE! Get your mind stuck on Science Fiction and your fingers stuck on Sci-Fi food.

It's Time To Be Incredible!


IncredCon 2016 is about:

Access - Access to a quality experience at a reasonable price.

Fans - Providing said access to real genre fans.

Artists, Actors & Technology - Spotlighting the artists and actors with fan access and show and tell of real future technology and foods that have come from the inventiveness of Science Fiction.

Helphing Others and Community - An event that spotlights community vendors and nonprofits with phenomenal causes.
Incredcon, is poetry in motion; because it is about the weirdness of science! It's all about incredible people, ideas, thoughts and things that have changed or will change the world as we know it, combined of course with weird food of the future! And best of all you can touch a Tardus Space Ship!
GET YOUR MIND STUCK ON SCIENCE FICTION AND YOUR FINGERS STUCK ON SCI-FI FOOD.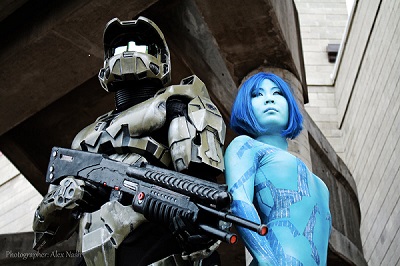 INCREDIBLE NEW SCI-FI MOVIE TRAILERS AND RELEASES LIKE TERMINATOR GENISYS AND IRON SKY:
****************************************** PREVIEW ****************************************************

NEW IRON SKY MOVIE

NEW RELEASE OF PREVIEW
FOR SECOND MOVIE,
NOW YOU SEE IT HERE ONLINE AT INCREDCON 2014
IRON SKY FIRST MOVIE
Have you ever wondered what it'd be like if the Nazis weren't really gone, but instead had taken over the moon? Well wait no more, for now there is Iron Sky.
VIDEO GAMES - DID YOU KNOW? Orange County is the Video Game Capital of the World! More video games are created in Orange County than any place in the world. Incredcon richly supports the expo of video games, manufacturers, artists, composers and video game stars. Adam Gubman Genius Composer and friends that from Bizzard, Disney and other manufacturers will be sneaking around, some giving exclusive content and maybe even signing. We should even have special content from an Owner of Blizzard. Some will be getting Stars at in the Walk Of Fame in Old Town San Clemente. See if you can spot them?
COSPLAY ADVENTURE - Cosplay has the most photos taken representing an event or convention. Incredible people dressing up get the excitement dressing as their heroes and of convention goers and press. Cosplay is the space where science fiction becomes personal. People and Kids love it, bigger kids love it I think even more. Our focus is to make cosplay a leading and very present roll at Incredcon fun factor! Life is about our Heroes and what we admire!
B-MOVIES AND THEIR ACTORS are one of the biggest things usually left out at big conventions, but have they have forged the content to the greatest and most watched TV shows and Movies in all time. Incredcon wishes to honor and show off those movies, props, sets, and more. Almost everyone in that industry got their start in B movies. Most bock buster movies were B-movies at first. Madam President from Iron Sky will be interviewing B-Movie actors live at Incredcon. Incredcon is about meeting the people that make the movie industry roll. Some will be getting Stars at in the Walk Of Fame in Old Town San Clemente. See if you can spot them?
COMIC BOOKS AND AUTHORS - Did you know comics and science fiction authors saved Hollywood and many other industries. They are the major block buster movies of our time. Many times comics and science fiction books have been at the forefront of controversial issues and communicated big issues to a huge population and the youth. Comics are essentially picture books of Science Fiction! Come and check out the old, new and future comic books at Incredcon!

TECHNOLOGY OF THE FUTURE - Some say its in the food of the future. Some say its the electronics, Some say its in space, Some say its in the software, Some say it is in toys, Some say its in the writing, Some say its all about robots, Some say its in the creativity. Some say its biomechanics & biotech, Some say its quantum mechanics, Some say its self aware. It is at incredcon to inspire future and present generations with the science fiction technology of today! WOW FACTOR!
And there is much more too see and experience words don't do it justice, but memories do!
ITS GETTING CLOSER TO OPENING TIME - The closer it gets to the more information we will have. Please check back with this site or follow us on Facebook or twitter. It is other people that believe in what you are doing that make your idea successful. We appreciate all your help in advance in making Incredcon Incredible! Since this is a grass roots effort and we are all doing this on our own time any suggestions and help is appreciated. We are trying to incorporate and make it an event with the needs and wishes of all those invovled. It is about inspiring the next generation, instilling wonder, and amazement, demonstrating creativity and how all things are possible if we work together. Thanks for thinking of INCREDCON - SciFi Convention in Orange County.

WE THANK OUR SPONSOR AND HELPERS: High School Boosters Club, Community, Prespyterian Church Of San Clemente, Boys and Girls Club of America, University Of California Alumni Association (UCI), Stoneybrook Christian Schools, Crean Luthern High School, Walmart, Albertsons, Ralphs, Lowes, Denaults, US Chamber Of Commerce and More to Come... If your company would like to be on the sponsor list all year long and at the event, please give a call or email.

FUNNY SCIENCE FICTION PRANKS THAT MAKE YOU LAUPH AND LAUPH
AND JUST HAVE
A LOT, BUNCH, MORE
FUN THAN EVER!